Renault has unveiled the Renault EZ-PRO, a robo-pod concept developed with DPD that could automate last mile delivery.
The EZ-PRO concept consists of an autonomous leader pod and driverless robo-pods. Each pod can be set up differently. A pod could contain self-service parcel lockers, for example.
The leader pod hosts a human concierge who supervises the delivery of goods and services and its fleet. The concierge won't be a driver, but can help give a human face to the service and help with delivery of groceries or fragile objects.
The robo-pods can travel in a platoon or independently.
"This project gives us the ability to imagine how optimised last mile deliveries can shape tomorrow's urban life, through the implementation of greener and closer solutions," -Thomas Steverding, Senior Group Manager Process & Development at DPD in Germany
Renault says that the robo-pod system will combat congestion (all these fancy automated solutions make this claim) by reducing the number of vehicles on the road during rush hour. Really? Putting parcel lockers on a robo-pod instead of near public transport hubs won't reduce the number of vehicles on the road. Quite the opposite.
That's not to say that there are no benefits from autonomous vehicles. The robo-vehicle could be connected to city infrastructures like traffic lights to help optimise routes and vehicle acceleration.
There have to be changes to infrastructure to enable some of the other benefits to traffic flow. Double-parked vans are a safety issue for delivery drivers, and create traffic problems. If cities provide adequate spaces for delivery vehicles (including autonomous solutions) then deliveries would be speedier and safer, and overall traffic flow would improve.
Another issue affecting traffic is the number of drops delivery drivers have to make. If drivers were able to make more deliveries per stop, then that would increase efficiency, reduce costs, reduce congestion (as a result of fewer stop-start trips), and reduce engine wear-and-tear.
Autonomous vehicles on their own won't resolve these issues.
Good luck to DPD and Renault as they continue on this project. Autonomous vehicles will undoubtedly play a role in last mile delivery in the years to come.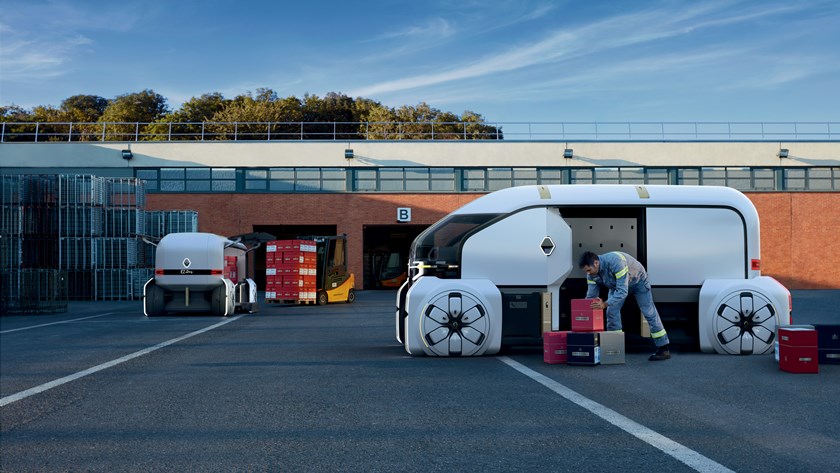 Get the Postal Hub delivered free to your inbox each week: